Modular Table Saw
---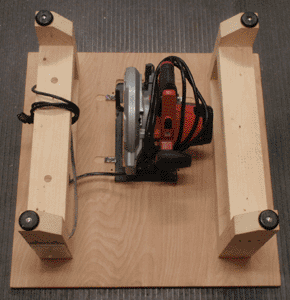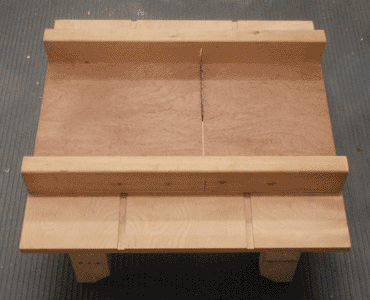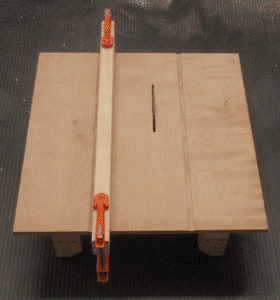 ---
Early last year, the circular saw that powered my table saw failed, due to age-related embrittlement of its plastic frame. I took this as an opportunity to redesign the saw and make it smaller, lighter, and capable of handling larger pieces of wood; however, other projects took precedence, and the new saw remained in a partial state of completion for some time. Recently though, I was able to bring it to full functionality, and the saw in its current state can be seen above.
Much like the old version, this table saw is essentially a two-by-two-foot sheet of plywood with a circular saw mounted underneath. Unlike the old saw, however, this saw uses an open frame, which avoids the problem of heat buildup I encountered with the previous design. The circular saw is also set in a shallow pocket, which I milled out with a router, and is retained by small metal clips on threaded studs, tightened down by wing nuts. The pocket is primarily for alignment, although it does slightly increase the maximum depth of cut. This, combined with the use of wing nuts, allows the circular saw to be easily installed and removed without tools or measurement. For the same reason, the saw trigger is held down with a velcro strap, rather than the zip-ties used in the previous saw. The table top itself is also removable by a similar mechanism, being held to the legs with studs and hex nuts, although wing nuts could be substituted here as well. This will allow other tools to use the same frame; specifically, in the future I will probably build a separate top for my router.
Unlike the old saw, this version has separate mechanisms for ripping and crosscutting. For a ripping fence, I found that a simple board works well enough; the only modification I made was to add slots to the ends of the fence to retain a pair of small bar clamps, which would otherwise be loose and tricky to align. For crosscutting, I made a true crosscutting sled, which is aligned to the table with a small steel rail. Both of these functions can accommodate boards up to a foot in width, due to the thin fence and the off-center positioning of the saw blade. Furthermore, due to the off-center blade and the dual rail guides, the crosscutting sled can be turned around, and in the future I will likely make another slot in the reverse orientation for beveled cuts.
With this saw now usable, I was able to make much-needed replacements for some small outdoor tables. The old tables were made of plastic and were becoming powdery and brittle. The new tables are made of cedar, and can be seen below.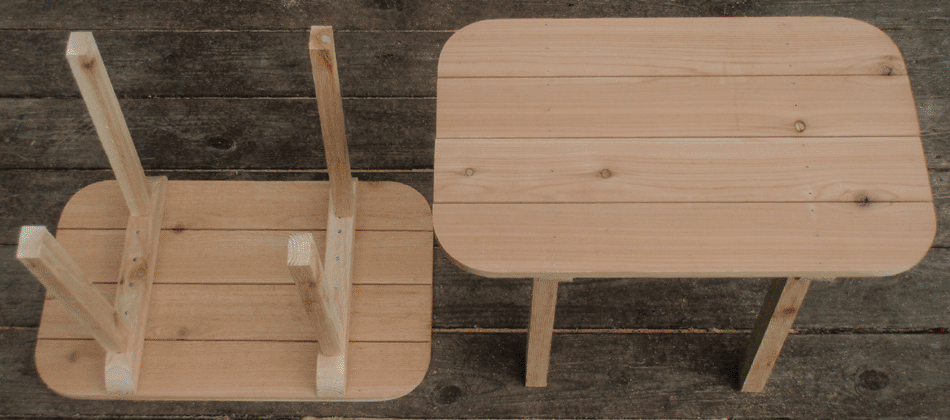 ---
Index